The management structure of DANUBIUS-PP is summarised in the figure below, with roles and responsibilities identified and summarised below. Users will be represented in the Stakeholder Committee and given the opportunity to review  and amend all draft deliverables. The DANUBIUS-PP project management and WP leaders will be assisted by international experts through the Scientific and Technical Advisory Board (STAB).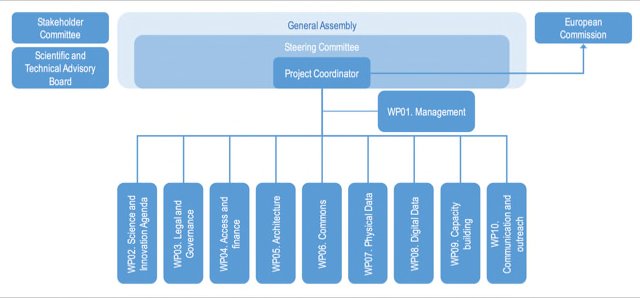 Project Management
The principle of project management of DANUBIUS-PP is 'user-driven management'. This principle is infused in the governance and management scheme and rules, and is based on the guidelines defined by DESCA5.DANUBIUS-PP will be undertaken by a Consortium of 29 partners from 16 EU Member States and Associated Countries, plus 2 ERICs (ICOS and EMSO). Project management (WP1) relies upon a proper communication flow between all Consortium partners.
Steering Committee (SC)
The SC is the executive body of DANUBIUS-PP. It will assist the PC/PM in managing the project, ensuring the quality assurance and timely implementation of work package activities. The SC may make proposals to the GA on work programme modifications, or allocating funding from the European Commission (EC), on accession and withdrawal of partners as on default and termination. The SC will submit all draft deliverables to the ShC for review and may call for internal reviews. The SC will meet at least four times a year and as often as felt necessary. The SC will be composed of the Project Coordinator team, WP Leaders, and WPCs, and will be chaired by the Project Coordinator.
Scientific & Technical Advisory Board (STAB) – currently in selection process
The STAB will be advisory to the GA and, on the request of the SC, will advise on all scientific and technical matters. The STAB will be composed of representatives from European and non-European research institutions and internationally recognised experts in different scientific communities relevant for DANUBIUS-RI. Where appropriate, experts from industry will be asked to join the STAB. The STAB members will be approved by the GA for the whole project period. The STAB will select its chair and will meet at least once a year.
Stakeholder Committee (ShC)
The ShC will be the assembly of DANUBIUS-PP main stakeholders, and will include representation from the funding agencies. Representation will also include professional associations representing companies involved in activities for which river-sea systems are highly relevant. The ShC will be kept informed by the SC of the project's target and time schedules; project planning and control; dissemination and exploitation activities. The ShC will be specifically tasked with reviewing the draft deliverables of DANUBIUS-PP, to ensure the deliverables reflect input from the ShC.